A glimpse of Michael Gray's backcountry cooking skills during the Great Lake Sea Kayak Symposium on Mosquito Beach, MI. Find the recipe and more in his cook book : Hey, I'd Eat This at Home!
Directed and edited by The Aisling Collective
When joining us for a guided kayak tour, don't expect campfire nuked hot dogs and a foil pouch full of sawdust for dinner. Our repeat clients often remark that they've returned for the food as much as for the paddling experience! Michael, our director has been traveling worldwide to teach outdoor cooking programs from New Zealand to Seattle over the last 30 years and is the "food guy" at a variety of kayak symposia all over North America.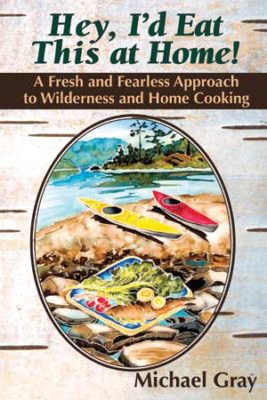 We pride ourselves on producing original recipes from minimally processed quality ingredients. You can expect fresh seafood and pasta dishes, fine vegetarian dishes, fresh baked treats and hearty fare to fuel the body and spirit. From New Orleans Pain Perdue to Orange-Honey Grilled Lake Trout, we can accomodate most any taste or special diet.
Many of the recipes Michael uses on trips have now been compiled into to form his classic backcountry cookbook, Hey! I'd Eat This at Home!
Sample Menu for Coastal Kayaking Trips
We know we can't control the weather, but Uncommon Adventures heartily believes in using every factor within our power to help insure a terrific trip for you. We feel that by spending a little more for quality ingredients and making some creative efforts we are able to exercise one of our greatest assets—the best food in the tripping business. To produce our original recipes we use local wines, locally roasted coffee,  dried cherries grown on the street we live on and seasonal produce, both cultivated and wild. We can accommodate special diets with care and style.
Typical Breakfasts…
New Orleans style Pain Perdue with wild blueberry compote — made from ffrench bread and freshly foraged berries
Rudi's Island Pancakes — buttermilk hotcakes flavored with island spices, bananas and Honduran vanilla, served with Will's wood-fired maple syrup
Huevos Rancheros — fresh eggs smothered in vegetarian chili, shredded cheddar and fresh garden salsa, served with toasted tortillas
Dutch oven Banana Bread with traditional Birkersmuelsi — served hot out of the oven with homemade muesli soaked in apple cider
And for lunch…
Picnics including: whole grain artisan breads, cracked pepper crackers, assorted fresh fruits and cheeses, smoked meats, baby carrots and various spreads like hummus, and vegetable paté
Salads including our own pasta creations using fresh veggies, herbs and dressings made from extra virgin olive oil, balsamic vinegar and Key West lime juice
Evening Repastes…
Mandarin Chicken Stir Fry — Lean breast meat tossed with crunchy vegetables, sweet mandarin slices, morel mushrooms and toasted almond slivers served over basmati rice
Tortillas! Chicken Fajitas — Marinaded chicken wrapped in warm tortillas with grilled sweet peppers and onions, black beans, white cheddar and fresh garden salsa
Black Bean Burritos with Sun Dried Tomato Salsa — Sweet red bell peppers, black beans, sauteed onions and cheddar rolled in a flour tortilla smothered in warm salsa made on the spot
Cheese Tortellini With Fresh Marinara and Garlic Herb Bread — While the bread bakes we simmer ground plum tomatoes, garlic, fresh basil, onion, red bell peppers and artichoke hearts
Cajun Shrimp Chowder over Jasmine Rice — Onions, peppers, sweet potato and white corn simmered with shrimp in a sauce piquante ladeled over a steaming bowl of this highly aromatic rice
Poached Lake Superior Trout with Pesto New Potatoes — Freshly caught lake trout poached with Italian herbs, lime juice, garlic and white wine served with red potatoes roasted in a light pesto sauce
Our dinners are often preceded by appetizers like toasted quesadillas or baked brie in an herb crust.
Desserts…
Sometimes the right treat can take the chill off a cool night….like Black Forest Brownies, Strawberries and Hot Shortcake or Key Lime Kiwi Tarts.
Fresh Fish for Dinner
The Lionfish, though beautiful, is an extremely invasive fish that's displacing other marine life tropical waters of the Atlantic. Fortunately, it's tasty! We're promoting biodiversity by catching and eating these guys. It's a tough job, but somebody has to do it…