Fly Fishing Trips
There are no upcoming events at this time.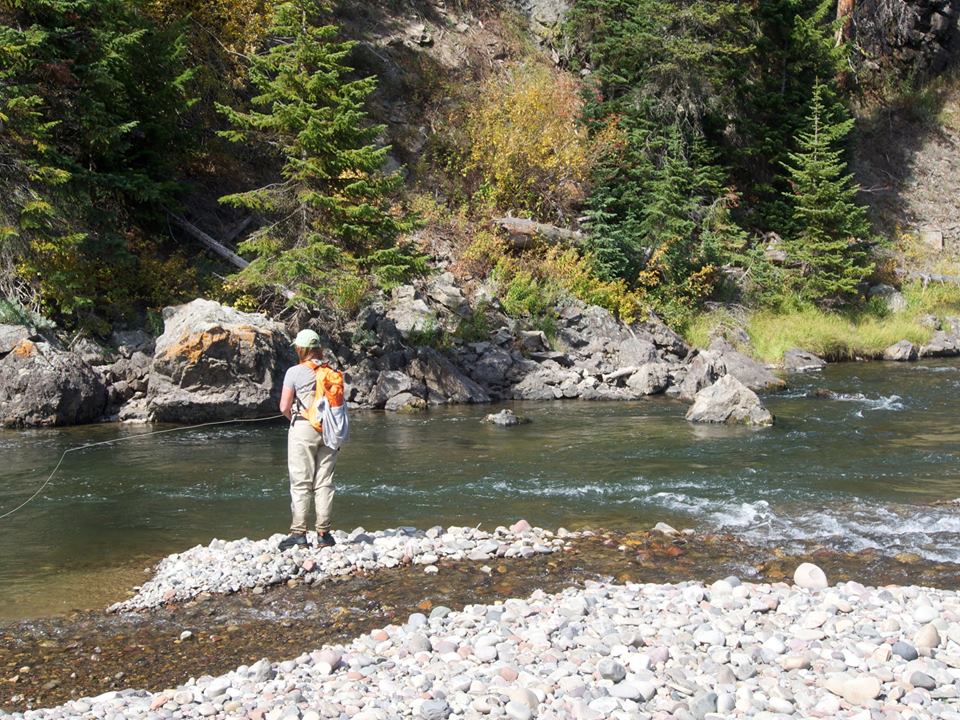 Fly fishing is the perfect marriage of mind, body and spirit. The finesse of casting, the appreciation of nature through stream entomology, the tension easing quality of a river's gentle flow are all combined with the adrenaline rush of a rainbow taildancing before your eyes. You really can get there from here, but it may take a little help. This isn't what you think of as "guided" fishing so much as instructional programs that ease you into the sport in a fun non-intimidating way. We offer weekend workshops that include meals, lodging and a variety of equipment to get you started with fly fishing for Trout, Salmon or warm water species.
Fly fishing opportunities abound in the Great Lakes region. Below are a few of our typical offerings. Many of these trips are booked on request. We also do custom trips to destinations, including Yellowstone and Western rivers, Alaska, New Zealand or Honduras, among other places. We can build you a dream trip to any of these destinations. Its a wet planet, let's fish it!
Now is your chance to learn how the stealth of a kayak can put you onto more fish in more remote locations. You will learn habitat, distinguishing characteristics and some fun ways to hunt for fish. By basing ourselves out of a central camp in the AuSable watershed we can have access to the legendary streamer waters of the AuSable's main, South and North Branches as well as the upper Manistee, all within easy drive and shuttle distance.
Dates for 2017: May 18 – 21, October 19 – 22
Cost: $595 / single, $1000 / couple. Includes meals and lodging.
The Greater Yellowstone Ecosystem is one of the most unique places on the planet with its myriad geo-thermal features, other worldly landscapes and unique wildlife viewing opportunities. It has a well-deserved reputation as one of the best trout fishing destinations on earth. Walk or paddle a couple of hours into the backcountry and you end up in a nirvana of eager speckled predators, fantastic camping and pure wilderness bliss.
Dates for 2017: July 15-22, September 9-16
Cost: $1295 / single includes meals and lodging.
Fly Fishing for Trout (Lodge-based)
Not a guided fishing trip, but an outdoor classroom in which you will learn how to read water and the environmental conditions as well as increase your knowledge of entomology to help you choose flies. Our location affords us with classroom names like the Pine, Manistee, Pere Marquette and Little Manistee–all places to help you learn fine tactics for taking Trout.
Dates: By Arrangement
Cost: $495
Fly Fishing for King Salmon by Kayak (Lodge-based)
Lean to fish from your kayak! For salmon!
Dates: By Arrangement
Cost: $450 w/meals and lodging
Salmon Fishing On the Fly (Lodge-based)
They're big, they're scary and they are in our back yard! Learn how to find, cast to, fair hook and land these Pacific imports. If that sounds like a tall order, you are right! You will need patience, stamina, and tackle with backbone to go up against the biggest propellers to come upstream from Lake Michigan. We will make every attempt to get you to some of the lesser known areas to avoid ugly crowds and help you have a nice outdoor experience as well. Blindfolds are complimentary as we lead you to some "secret spots" for the thrill of a lifetime.
Dates: By Arrangement
Cost: $450 w/meals and lodging